Page 2 of 4
---
Zenesis Electronics ZN-502
First unveiled at SEMA 2008, The ZN-502 is the world's first car security / remote starter remote featuring an OLCD display powered by Hyperactive LEDs. Coupled with its unique design, the unit comes with the next generation Z-PASS Touch which uses electromagnetic static from your finger to unlock your vehicle. Alarm and starter features include One mile range, RS-232 Data Port Ready (CANBUS), tach sensing, built in turbo timer, Aux input/outputs, code hopping, active/passive arming, temperature display, starter kill, auto/manual transmission compatible, remote paging, slim remote design and much more.
---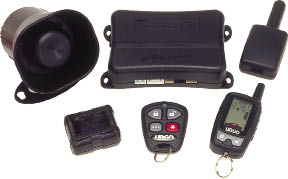 UNGO SR7000
The UNGO SR7000 from Clarion is the fifth generation 2-Way remote-start and security system. It features a 2-way remote with LCD to let you keep tabs on your vehicle's status, even from your house or apartment bedroom. Convenience features include full door lock control, trunk release output and remote panic and valet mode enable. The SR7000 can be used to control multiple vehicles, has a 2-stage shock sensor and on many vehicles can activate your rear defroster and heated seats in those cold winter months. Your installer will have no trouble installing the SR7000 thanks to an included Data port interface and Intelli-Tach engine RPM programming.
---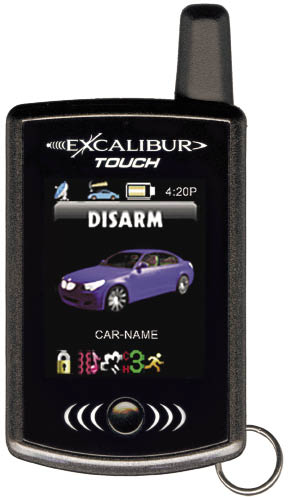 Excalibur AL-1920-EDP Touch
The Excalibur AL-1920-EDP Touch security and remote start system is powered by ECHO-TOUCH technology and includes a color touch screen 2-way extended range controller. This powerful controller offers multi-vehicle operation, selectable vehicle image and vehicle name, full color animations for all functions (not just triggers), alarm trigger history report, English / Spanish modes with voice alert and vibration modes, a rechargeable battery (home and car chargers included), an alarm clock, and more! Also included with the AL-1920-EDP is; One 4 button 1-way remote, manual transmission compatibility, turbo timer, 7 onboard relays, low temp starting, low voltage starting, on demand engine run time extender, run time expiration warning (2-way only), databus integration port, 5 engine detection methods, 4 auxiliary outputs, pin-code override, simultaneous horn / siren alerts, mini 2-in-1 siren, starter interrupt with anti-grind, and a dual zone impact sensor.
---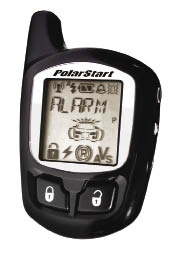 Polarstart PS7850TW-FM 2-Way Alarm/Starter Combo
The Polarstart PS7850TW is a 6-button FM LCD transmitter with a companion FM 5-button transmitter (up to 3500ft / 1070m of range) with two-way communication HDX Technology, monopole antenna with embedded bright blue LED, status via six alphanumeric characters and icon LCD transmitter display. This unit features a bright backlit LCD screen, 8 user-programmable LCD backlight colors, signal reception/operation confirmation (beep/text), alarm notification paging by custom chime or vibrate mode, user-programmable time start, user-programmable transmitter language (English/French), user-programmable transmitter keypad lock, user-programmable 6th button (Temp, Stop, Aux, Panic, Cold Weather mode), passenger compartment temperature display via transmitter, transmitter battery level indicator, on-screen ready mode on/off indicator (manual transmission models only), on-screen engine running countdown timer, clock with alarm function, parking meter countdown, remote control locator, temperature sensor compatible, multi-level shift button and channel expander compatible. Some features may require additional parts or labor.
www.automobilitydistribution.com
Read on for More Products