Page 6 of 7
---
Kicker QS-Series
Kicker QS-Series matched component systems reach an entirely new level of optimal audio, using the latest, most innovative parts and cutting-edge processes to give the listener the absolute closest thing to live sound. It simply provides the clearest music that ears will ever experience. Midrange speaker sizes determine the difference between the QS65.2 System (6.5-inch) and the QS60.2 System (true 6-inch that fits 5.25-inch location as well). These mids reach their uncanny range with a Kicker first – the Tri-Tech cone, a straight efficient cone consisting of a woven carbon-poly facing, a highly-advanced, super-rigid Rohacell foam core, and another carbon-poly backing all sandwiched together for utmost internal damping and unparalleled sound.
USA - www.kicker.com
CAN - www.gemsen.com
---
Pioneer TS-A Series
Pioneer Electronics next generation TS-A series speakers feature the highly touted basalt rock speaker technology. Inherited from last year's high performance TS-D line of speakers, the basalt rock composite in its speaker cones make them extremely light and rigid, a combination necessary for increased output in lower bass frequencies. The basalt enhanced cones are matched with a soft dome midrange placed in a wave guide, resulting in an open and smooth sound output that delivers an incredible sound quality experience like being at a live music performance.
---
JL Audio Evolution C2-650
The JL Audio Evolution C2-650 is a component system with 6.5-inch (165mm) woofer and a true, edge-driven 0.75-inch (19mm) silk dome tweeter that excels on or off axis and offers clean, flat frequency response to well beyond 20 kHz. The System includes flush and surface mount tweeter mounting fixtures and true 2-way outboard crossovers with three user selectable tweeter attenuation levels. It is designed to fit popular drop-in factory speaker sizes and has installer-friendly features and frames designed to work equally well as full range speakers or as satellite components in a system with a subwoofer.
USA -  www.jlaudio.com
CAN - www.gemsen.com
---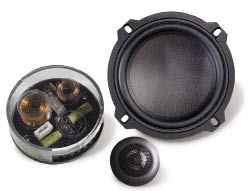 Memphis Car Audio MClass
Memphis Car Audio MClass component speakers offer a host of advanced materials, features and mounting options. The smooth aluminum/magnesium tweeters come with a full complement of hardware for flush, surface or angle mounting. New aluminum/magnesium adds strength. Passive crossover allows you to customize sound, or to use 2 amps. And, of course, you'll avoid heat and reduce damage to the tweeter. This product features ferrofluid cooling, cast aluminum basket, high-end gold-plated push terminals, carbon honeycones, butyl rubber surround, kapton voice coils, two-way passive crossover, and bi-ampable inputs with tweeter protection.
Read on for More Products