Page 3 of 3
---
Eclipse AVN726E Roadview Navigation
The Eclipse AVN726E features stunning images, dynamic sound, and SD based navigation for an exceptional in-car experience. The high voltage 5-volt pre-out creates low distortion with clean and powerful sound on all of your music sources such as i-Pod, CD, USB, Bluetooth streaming music, XM and SIRIUS radio. i-Pod users can also tag songs that they like on an HD Radio broadcast for purchase on Apple's i-Tunes Music Store. DVD movies are viewed on a beautiful 7-inch wide QVGA screen that incorporates an advanced digital image processor for optimum outlining, color-depths and contrasts to make images more vivid. The digital to digital monitor further improves contrast by keeping data transfers in digital format and eliminating noise caused by the conventional analog conversion process. The AVN726E also offers advanced theft protection thanks to the built-in Eclipse Security Network system that prevents operation without a dedicated security medium. For enhanced safety, the unit keeps the driver concentrated on the road with turn by turn voice navigation, steering wheel-mounted controls and built-in Bluetooth hands free calling.
USA -
www.eclipse-web.com
CAN -
www.automob.ca
---

MD SOUND MD-3.5T
MD Sound, a 7 Elephants brand electrifies the mobile video market with the release of its New MD-3.5T color LCD Head unit. The MD-DVD3.5T is a full featured single DIN DVD player with tuner and flip-down panel. It is NTSC/PAL compatible with screen angle and position memory. Designed for suitable and enjoyable mobile amusement, it's audio and DVD capacity is complete including DVD/DVD-R/MP3/MP4/VCD/CD/CD-R/CD-RW delivering absolute convenience and functionality. It has AM/FM/MPX stereo with 30 preset stations, USB 2.0 and SD card input. For the truly advanced consumer the DVD/VCD/CD changer control interface, subwoofer output, and a card size full function remote control will qualify for an even more incredible capabilities of this head unit
www.mdsound.net or call (800) 977-9779
---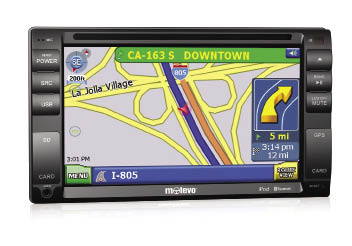 Motevo GTV-X1+
The Motevo GTV-X1+ in-dash double din multimedia navigation system offers all in one entertainment and value. Featuring a 6.2-inch fixed panel TFT LCD, iPod interface, SD card slot and USB port this unit supports DVD, DVD+R, VCD, CD, CD-R/RW, MP3, MPEG 1-4. With built-in GPS navigation and Bluetooth Hands-free control (also supports A2DP music streaming), the Motevo GTV-X1+ is the multimedia solution you've been looking for.
www.motevomobile.com or call (626) 810-6878
---
---
Valor Multimedia SDN-908W
The Valor Multimedia SDN-908W comes complete with AM/FM, DVD, CD, VCD, MP3, WMA and MPEG4 video playback, iPod control with cable included and Bluetooth cell phone integration. In addition, it comes with built-in GPS navigation using TelaAtlas Mapping featuring over 11 million Points of Interest (POI) and Text to Speech voice commands calling out all street names. The SDN-908W is a single din chassis with a fully motorized Touch Screen Control 7-inch LCD monitor. Additional features include: 4x55 Watts MOSFET Amplifier with 5-Channel RCA Line Level Outputs (Front, Rear & Sub), Front SD Card Reader, Front USB Port, 2 Rear Video Outputs, 1 Rear A/V Input and 1 Rear Camera Input. You can also play your music wirelessly via Bluetooth A2DP streaming. There is Last Position Memory for the DVD Playback and Built-in Dolby Digital Surround.
www.valormultimedia.com or call (888) 58-VALOR