Page 1 of 10
---
Cadence Acoustics DCX Subwoofers
Cadence DCX Competition subwoofers feature a unique and powerful 1500 Watt RMS ultra saturated, high "BL" magnetic motor with one piece extended pole technology. Quad layer, linear progressive conex spiders along with integrated high current 4 layer round tinsel leads assure the most efficient delivery of current from the amplifier to the DCX motor. To reinforce this current flow terminal connections have been replaced with direct connect 10 gauge wire. Cooling is achieved by the use of a magnet motor heat sink with heat pump for the most efficient transfer of heat away from the motor. The three inch black anodized voice coil former is wrapped with four layers of high power wire windings. The oversized double laminated foam surround is stitched to the fiber reinforced paper composite cone body for good looks and added strength. DCX subwoofers are capable of high power for SPL and are extremely musical for extended listening, but they are not for the meek. For more visit www.cadencesound.com or call (800) 477-2328.
---
Alpine Type-R SWR-1222D
The SWR-1222D is a 12-inch, dual 2-ohm subwoofer from Alpine's popular Type-R series. Built to play loud, clean and long, the SWR-1222D delivers excellent bass performance with great low frequency extension and clarity. It has a patent-pending High-Amplitude Multi Roll (HAMR) surround for maximum excursion and highest output. Its ultra-long linear excursion provides dynamic, realistic sound, while concealed mount gaskets create a clean, finished look that's sturdy enough to resist wear and tear. For more visit www.alpine-usa.com.
---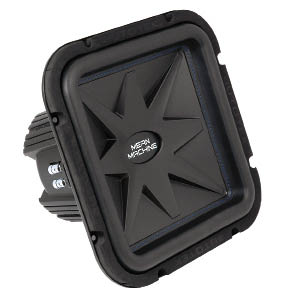 Autotek Mean Machine MW12SQD4 Square Subwoofer
Autotek MW12SQD4 Mean Machine 12-inch DVC 4-Ohm square-shaped Subwoofer allows approximately 20% more cone surface area for moving air and generating higher SPL than the same sized round woofer. Powerful 100 oz. high-energy double stacked magnet assemblies coupled to a nickel-plated extra-thick back-plate focus all the amps energy within the speaker's core. Four-layer high-temp aluminum voice-coils take the magnetic energy and transfer it efficiently to the polypropylene cone. Special ribs were formed into the rubber surround at the corners to prevent the surround from bending while the cone travels up and down providing improved sound quality. A single-piece tinsel-lead Nomex® spider assembly prevents fatigue caused from the massive cone vibrations while ensuring reliability and clarity. Power rating of 1200 W Maxx and 600 W RMS with endless wiring configurations add to this space saving alternative. For more visit www.maxxsonics.com or call (847) 540-7700.
---
American Bass HD12D2
The American Bass HD12D2 is one of four drivers in the HD line-up. Its sister 12-inch driver is called the HD12D1 and has dual 1? voice coils instead of the dual 2? units on this driver. American Bass also offers a pair of 15-inch versions, again with dual 2? and dual 4? voice coils. All of them are rated at 1,500Wrms and 3,000W Maximum power. Mounting depth for the HD12D2 is 8.11 inches and it weighs an impressive 48 pounds. For more visit www.americanbassusa.com
For More Products Read On