Page 6 of 8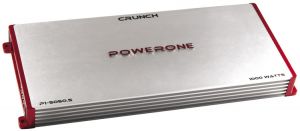 Crunch
PowerOne P1-5050.5
crunchusa.com

PowerOne is a new full line of amplifiers from Crunch. Power, versatility and easy installation make the P1-5050.5 the perfect choice for multi-channel systems. Delivering 125 W x 4 into four ohms and 500 W on the fifth channel at two ohms, it gets the power done right! The crossover is plenty flexible and variable bass EQ, low and high pass options and level controls make this a perfect choice for OEM integration or custom installations.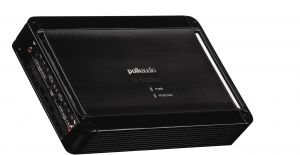 Polk Audio
PA D4000.4
polkaudio.com

The Polk Audio PA D4000.4 high performance digital car amplifier is a super-efficient class D design that runs much cooler than conventional amps. Accompanied by a high-speed Mosfet switching power supply, toroidal transformers help keep the amplifier's sleek design under two inches tall while ensuring plenty of clean, efficient power. Nickel-plated wire terminals and RCA connectors ensure maximum signal transfer. For protection, the amplifier features thermal, DC offset, reverse DC voltage and short circuit protection while the stainless steel hardware used throughout will not corrode in humid environments.

Audison
AV 5.1k
elettromedia-usa.com
trendsinc.com

The AV 5.1k produces 1,650 Wrms for five-channels for front, rear and subwoofer configurations; or, multiamplified front and subwoofer systems. High-quality class AB output stage provides two channels with 250 Wrms. Another pair of class A pure audio channels are rated at 75 Wrms (perfect for active two-way front speaker systems) while the class D mono section provides 1,000 Wrms efficient and powerful subwoofer output. Other features includes automatic remote turnon/off and Amplifier Management Processor technology.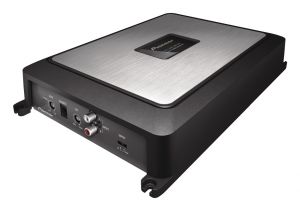 Pioneer
GM-D8500M Class D
pioneerelectronics.com
pioneerelectronics.ca

Pioneer's GM-D8500M class D mono amplifier is designed to produce the same power output as conventional class A/B amplifiers and is 80-90 percent more efficient. Ideal for powering large subwoofers, it features two-ohm stability and can produce up to 600 watts (at two ohms) to deliver high power and high current in a wide variety of configurations, from a single to multiple subwoofer applications.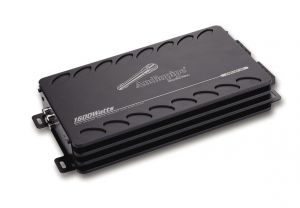 Audiopipe
APSM-55100
audiopipe.com

Audiopipe's APSM-55100 is a brand-new compact five-channel 1,600 Wmax Mosfet car amplifier capable of 75 Wrms x 4 plus 350 Wrms x 1 (at four ohms); or, 120 Wrms x 4 plus 500 Wrms x 1 (two ohms). Subsonic filter is adjustable from 50 to 250 Hz while the high pass filter is adjustable from 50 Hz to 1.2 kHz. Frequency response is 20 Hz to 30 kHz. This small-footprint, high-output five-channel amp can power your whole system!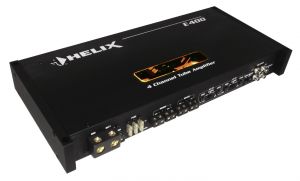 Helix
E400
helixhifi.com

For audiophiles who appreciate a smart design, the E400 tube amplifier delivers an amazing acoustic performance. It's warm and powerful sound comes from dual triode tubes mounted in an elegant 18.5- x 8.7- x 2.3-inch chassis. The E400 features an integrated active crossover, 24-karat gold-plated connection terminals and smart protection circuitry.