Phoenix Gold
Elite-Series
phoenixgold.com
gentec-intl.com

The new Phoenix Gold Elite-Series amplifiers feature Burr Brown op-amps – typically used in the most high-end of high-end home systems – for ultra-low distortion/noise and high-speed/bandwidth for maximum musical resolution, as well as Monolithic signal capacitors, dual-package Sanken output transistors and overbuilt dual unregulated power supplies with handwound power supply transformers. All this comes together to deliver seemingly unlimited frequency response and smashing dynamic range.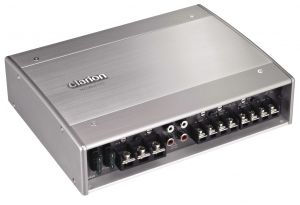 Clarion
XC6410
clarion.com

Clarion's XC6410 ultracompact, high-efficiency 85 Wrms x 4 power amplifier features independent front and rear crossovers, sensitivity and bass extender controls, signal-sensing automatic turn-on circuitry plus speaker level input capability. The amp is bridgeable and will provide 250 Wrms into a four-ohm load. Corrosion-resistant nickel-plated RCA, power and speaker connections combined with a conformally-coated circuit board make this a perfect upgrade to any factory audio system, including marine applications. The XC series includes a two-channel version called the XC6210.

JBL
GTO-5EZ
jbl.com
eriksonconsumer.com

JBL's GTO-5EZ fi vechannel amplifier makes plenty of power to drive any full-range system with subwoofers with no need for a separate subwoofer amp. Features include: 50 Wrms x 4 plus 350 Wrms x 1 at four ohms, 14.4 V DC, <0.5% THD and 1,935 Wmax.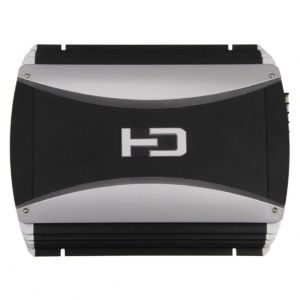 Scosche
HD Series
scosche.com/car-audio

Scosche Industries introduces a new line of economical amplifi ers, HD amplifiers by Scosche combine value and know-how without compromising sound quality or components. The HD amplifi er lineup includes two amps. Both feature thermal overload and short circuit protection, selectable high pass/full range/low pass Mosfet power switching crossover, RCA and speaker level inputs, brushed aluminum heatsink and top plate and dynamic bass boost. The two-channel 400-watt amp (#HDA4002) boasts a 50 Wrms x 2 (at four ohms) power output. The four-channel 800-watt amp (#HDA8004) has 50 Wrms x 4 (at four ohms).

Boss Audio System
Impact IMP Series
bossaudio.com

The Impact from Boss is sleek, low profile, efficient, powerful and extremely compact. With vehicles of all types getting smaller, this series offers a flexibility in system design seldom seen in today's market. The utilization of full range circuitry maximizes amplifier efficiency while providing the highest quality of sound reproduction. Three two-channel, one four-channel and one Mosfet monoblock amps will fit into spaces previously forbidden. Compact and powerful – what a concept!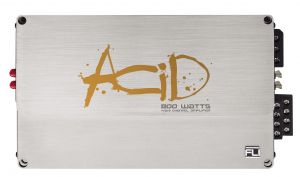 FLI ACID
AMPLIFIERS
fliaudio.com

FLI ACID is a new breed of car audio packed with attitude and outstanding performance. Available in two- and four-channel stereo confi gurations as well as a powerful monoblock bass amplifier, FLI ACID amplifiers feature class AB topology and a compact footprint with a gunmetal anodized aluminium heatsink for great power handling with enhanced cooling. Low-level RCA inputs and high-quality screw-down terminals for power and speaker connections are designed to make installations quick and easy. FLI ACID is distributed in the U.S. by Metra Electronics.



Alpine Electronics
MRX-V70 X-Power 5-Channel Digital
alpine-usa.com
alpine-canada.com

With 10 percent more (rated) power over its predecessor, Alpine's MRX-V70 boats ultra-clean sound output, the highest damping factor, lowest distortion, highest bandwidth and the best signal-to-noise ratio in its class. CEA-2006 amplifier ratings: 60 Wrms x 4 plus 250 Wrms x 1 (four ohms @ 14.4 V 1% THD + N); 90 Wrms x 4 plus 350 Wrms x 1 (two ohms @ 14.4 V 1% THD + N); S/N: 87 dB (ref.: one watt into four ohms).

Blackmore Mobile Electronics
BAC-DM70
blackmoremobile.com

The BAC-DM70 Mosfet monoblock amplifier produces 3,200 watts maximum–extreme power designed to drive Blackmore subwoofers. Like all BAC series amplifiers, the DM70 utilizes an effective method of increasing power from a vehicle's electrical system – technology that gives Blackmore amplifiers the ability to operate at impedances as low as one ohm. Other advanced features include 1,500 Wrms x 1, variable low pass crossover, bass boost and gain control as well as chrome-plated RCA inputs and remote subwoofer level.

Earthquake Sound
TD5X
earthquakesound.com

The TD5X delivers more power than anyone will ever need – 3,000 Wmax! It has four channels for front and rear imaging (over 100 Wrms per channel) and a fifth subwoofer channel with output of over 400 Wrms to deliver the best bass you can dream of. The TD5X is easy to install thanks to a low-profile heatsink fits into small areas while an auto-sensing option eliminates the need to run a remote turn-on wire from the head unit to the amplifier. Simply plug in the RCAs and the TD5X automatically turns on when it senses music and, then, shuts itself off when there's no music for 20 minutes.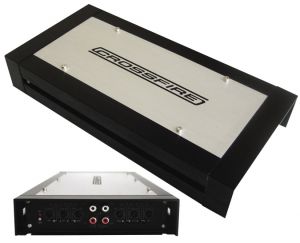 Crossfire Car Audio
C3
crossfirecaraudio.com

The C3 amplifi ers are about the real value that is not only judged on price but also the quality, power and performance you get for your dollar. With the smallest footprint Crossfire has ever off ered and all the features and newest technologies, C3 amps bring the power and are claimed to be the most reliable value amps on the market. With features like SMD dedicated audio chip devices, FR-4 double-sided PCB boards and higheffi ciency Mosfet power supplies, there's no better choice.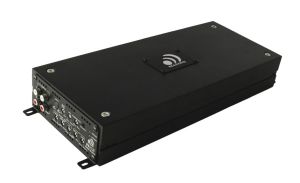 Massive Audio
Nano Block Series Nx3
massiveaudio.com

Massive Audio's Nano Block Series of amplifiers expands in 2012 with the new Nx3 three-channel model that combines its hot-selling Nx2 and the incredible class D "N2" into one model with dual power supplies boasting a staggering 2,080 W and CEA 2006 compliance rating seal! The Nx3 is 120 Wrms x 2 (240 Wmax) at four ohms plus 800 Wrms x 1 (1,600 Wmax) at one ohm. The Nx3 has adjustable 24 dB high and low pass crossovers, 12 dB bass boost, 24 dB subsonic fi lter on the sub channel plus two awesome new features: an adjustable one-band parametric EQ with a center frequency range of 30 to 80 Hz: and, a variable bass "Q" that allows the precise control of the frequency bell curve.

Kenwood
Excelon X700-5
kenwoodusa.com
kenwood.ca

Offering an exceptional multi-channel, single-chassis solution, the new X700-5 five-channel power amplifi er delivers 50 W x 4 for full-range applications and 500 W x 1 for driving a subwoofer system. The X700-5 features an intelligent thermal management system, which monitors temperature and operates the internal cooling fan when necessary for uninterrupted performance. Unique heatsink geometry helps efficiently dissipate heat and avoid thermal distortion. Available through authorized Kenwood Excelon retailers nationwide, the X700-5 is covered by a limited two-year manufacturer's warranty.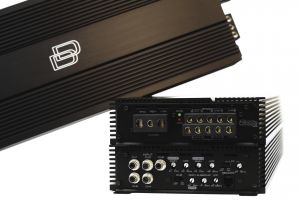 DD Audio
SS5
ddaudio.com

The new SS5 amplifier is the perfect one-amp solution to a clean and powerful high performance car audio system. Capable of driving a real DD system small enough for a hidden installation, the new SS5 builds on the discrete full range class D technology that debuted in the SS two- and four-channel amps. This five-channel amp delivers 125 W x 4 (at four ohms), 200 W x 4 (at two ohms) + 850 at one ohm and can deliver over 2,000 watts of dynamic power on demand. High-end sound quality, low battery drain and mind-blowing power in an impossibly small SS chassis that fi ts in the palm of a rather large hand.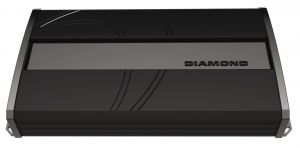 Diamond Audio
Tour Series
diamondaudio.com

Diamond's new Tour series amplifiers includes the two-channel TX3002, four-channel TX6004 and TX3004 and three single-channel models, which include RTMS (Recovering Thermal Management System) power-stabilizing technology, the TX10001, TX6001 and TX4001, respectively. Boasting audiophilegrade components and mil-spec multilayer circuit boards for exceptionally clean signal and massive power, Tour amplifiers utilize class GH high-efficiency SQ design with continuously variable 24 dB/octave crossover and infrasonic filter for greater control; and, superior class AB topology for unrivalled sound quality amplification with continuously variable 12 dB/octave high and low pass filters.

JL Audio
Slash v3: Back in Black
jlaudio.com
gemsen.com
The latest edition of JL Audio's legendary Slash series, Slash v3 monoblock amplifiers feature an all-new look and patented class D output circuitry enhanced to deliver 20 percent more power versus the previous generation. On-board signal processing includes a parametric EQ and highly-advanced crossover controls. The companion fourchannel 300/4v3 amplifier offers 75 W x 4 from JL Audio's patented Absolute Symmetry class A/B output. All models feature R.I.P.S. (Regulated Intelligent Power Supply) technology to maintain consistent power over a wide range of load impedances and supply voltages as well as advanced rollback thermal protection.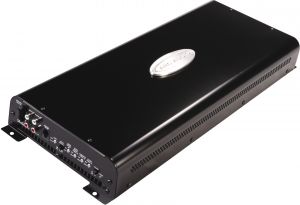 ARC Audio
KS2500.1
arcaudio.com

ARC Audio's new KS2500.1 amplifier is designed for the true power and bass fanatic. Designed by Robert Zeff , the KS2500.1 is latest addition to ARC Audio's KS line of amplifiers. Capable of over 2,500 watts, this class G/H amplifier is designed specifically for high-power, multiple subwoofer applications with efficiency and performance that won't break your wallet or your vehicle's charging system.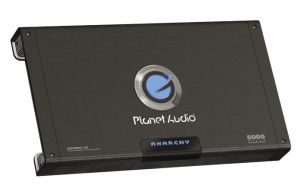 Planet Audio
Anarchy Series
planetaudiousa.com

Anarchy is "the absence or denial of any authority or established order." On Planet Audio, it's a state of lawlessness created by a utopian society of individuals who live for clear and loud sound. The Anarchy Series of class D and Mosfet monoblock amplifiers are designed for the mobile anarchist in all of us. If you live for clear and loud, these are for you.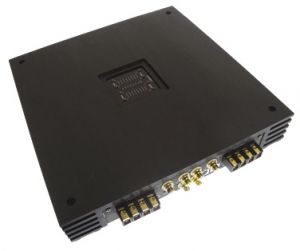 Brax
NOX4BDSP
braxhifi.com

The NOX4BDSP amplifier from Brax features the latest in technical knowledge while maintaining the acoustic performance of a reference class amplifier. Hand-made in Germany, this four-channel amplifier provides a wide range of adjustment via an integrated 56-bit DSP processor that can independently configure the four channels and/or the two line outputs.


Mosconi
Zero 1
mosconi-america.com

With sound quality to please the most discerning audiophiles and ample power to satisfy SPL competitors, Mosconi of Italy is proud to offer its Zero line of amplifiers. The Zero 1 class AB amplifier features a regulated power supply for incredible power and great dynamic sound that makes 450 W x 2 into four-ohm stereo and 3,000 W x 1 in two-ohm mono. Further setting it apart is its incredible MOS HyperDrive feature, which boosts performance to a phenomenal 650 W x 2 into four-ohm stereo and more than 4,000 W in two-ohm mono.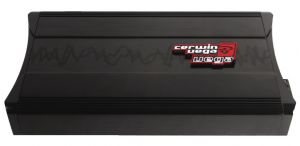 Cerwin-Vega Mobile
Vega Series
cerwinvegamobile.com

The new 2012 Vega series delivers improved performance and thermal capabilities with an enhanced design. Extremely flexible in any car audio installation, new Vega models include the two-channel VEGA250.2, four-channel VEGA500.4 and, finally, the monoblock VEGA600.1. Unique feature combinations such as Vega Bass equalization, subsonic filter (VEGA600.1) and high-density alloy heatsink provide longer play and greater performance. The VEGA250.2 and VEGA500.4 utilize class AB topology to deliver exceptional power and sound quality while the VEGA600.1 operates with a highly-efficient class D design for maximum output.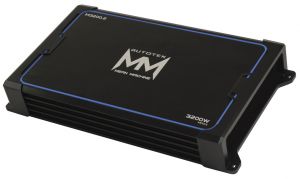 Autotek
Mean Machine M3200.2
autotekcaraudio.com

The Mean Machine line of amplifiers is designed for those ready to show off!! Car Shows, audio competitions or just hanging in the lot. The M3200.2 is a stereo model that is two- and four-ohm stable and part of six additional models of two- and four-channel amps, including two monoblocks with max powers from 1,600 to 4,000 watts! With all amplifiers featuring stunning opti-surround illumination, you will "Tread LOUDLY" with Autotek and light it up too.

JVC
DRVN KS-AX5101D
mobile.jvc.ca
mobile.jvc.com

The JVC DRVN KSAX5101D class D monoblock delivers loads of power plus a wealth of premium features at a budget price. Single-sided, cover-hidden connection block for ease of installation and a parallel drive Mosfet power supply provides 500 Wrms at two ohms, all in an attractive $229 package ($279 Canadian).

KICKER
ZXS Series
kicker.com
gemsen.com

The ZXS1500.1 and 1000.1 single-channel subwoofer amplifiers give the user a bevy of energysaving, class D power choices for your bass needs. Offering 1,500 and 1,000 watts respectively (listed ratings two-ohm at 14.4 V), Kicker makes selections available for what it does best, bass. Hiding under a small and efficient chassis, ZXS.1 amps offer a 24 dB/octave low pass electronic crossover and 24 dB/octave high pass subsonic fi lter fi xed at 25 Hz. They feature up to +18 dB of boost centered at 40 Hz. Both amps include Kicker's ZXRC remote bass control for some extra boost at the driver's fingertips.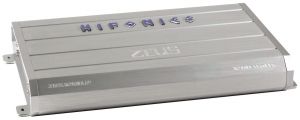 Hifonics
Zeus ZRX1200.2
hifonics.com

Zeus ZRX amps deliver Power from the Gods. Mortals would say "1,200 watts bridged at four ohms." That makes the 1200.2 the God of Stereo Power. This class A/B amplifier is powerful enough to run a full system or stay focused on subs or full range. The pre-amp and crossover configuration allow for variable low pass, high pass, bass EQ and a hard-wired level control can be mounted near the head unit.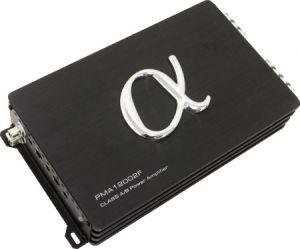 Alphasonik
PMA Series Class A/B
alphasonik.com

The PMA Series of full range A/B Mosfet amplifi ers provides the durability and flexibility to make them the perfect addition to virtually any sound system. These amplifiers can be operated at two-ohm impedances when in stereo and can be used in multi-amplifier configurations that ensure you the right amount of power for your specific application. Just like its class D series amplifiers, these also feature Alphasonik's cosmetic appeal that makes them something to be seen and heard.

Dual
XPE1700 – 1,000 W Mono
dualav.com

Featuring performance-matched output transistors for maximum power transfer and black anodized extruded aluminum heatsinks for dissipating heat. Direct-wire inputs eliminate the need for extra terminals while ensuring a more positive connection through increased wire contact. In addition, thermal overload and low-impedance circuits provide protection for even the most demanding applications. Also features variable low pass crossover, 12 dB/Octave crossover slope, variable bass boost (0, 6, 12 dB) and selectable subsonic filter (@ 35 Hz.) Power ratings: 400 Wrms (two ohms), 240 Wrms (at four ohms).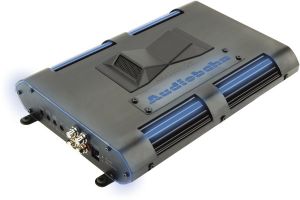 Audiobahn
Murdered Out Series Class D
audiobahn.com

The brand new Murdered Out series of monoblock class D amplifiers utilize Audiobahn's most power-efficient platforms to date. This circuitry coupled with the one-piece solid aluminum heatsink affords these amplifiers an incredibly small footprint while still providing for a maximum raw power production. They can also run all day long because of new proprietary ISO-ventilation cooling protection and, despite their compactness, the AMA24001DH and AMA36001DH utilize all of the cutting-edge features you've come to expect from all Audiobahn amplifiers. Murdered Out series class D amplifiers truly represent the best of form and function.

Linear Power
LP2250
linearpower.com

The Linear Power LP2250 is the flagship of a new generation of the best class A/B amplifiers ever to hit car audio. It delivers 250 watts per channel with more than 4 dB of headroom, a design and layout dedicated to audio purity and is hand-built in the USA.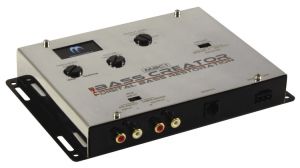 Maxxsonics
MBC1 Bass Creator
maxxsonics.com

Missing sub bass frequencies in your system? The MBC1 Bass Creator is the solution! The MBC1 accurately recreates and injects low frequency information back into the signal path. The Bass Equalization Circuit contours the restored bass for each specific subwoofer application. The MBC1 also includes a dash-mounted remote control with a LED status light that's brighter when bass enhancement is higher and grows dimmer as enhancement is reduced.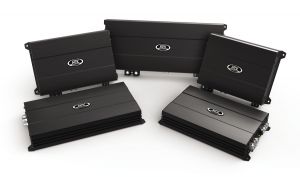 MTX Audio
TH Series
mtx.com
mitekcanada.com

TH series amplifi ers exemplify the MTX mantra of more than expected. These low-profi le amplifiers deliver high power at extreme value in three monoblock as well as two- and four-channel versions. All models feature a new clip light, which allows users and installers to properly set the amplifier up based on the source units input voltage. Monoblock models feature class D topology for improved thermal performance while the multi-channel models use A/B topology for optimum sonic quality. Additionally, the monoblock models feature MTX's patented Smart Engage power supply technology.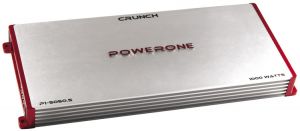 Crunch
PowerOne P1-5050.5
crunchusa.com

PowerOne is a new full line of amplifiers from Crunch. Power, versatility and easy installation make the P1-5050.5 the perfect choice for multi-channel systems. Delivering 125 W x 4 into four ohms and 500 W on the fifth channel at two ohms, it gets the power done right! The crossover is plenty flexible and variable bass EQ, low and high pass options and level controls make this a perfect choice for OEM integration or custom installations.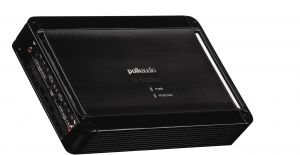 Polk Audio
PA D4000.4
polkaudio.com

The Polk Audio PA D4000.4 high performance digital car amplifier is a super-efficient class D design that runs much cooler than conventional amps. Accompanied by a high-speed Mosfet switching power supply, toroidal transformers help keep the amplifier's sleek design under two inches tall while ensuring plenty of clean, efficient power. Nickel-plated wire terminals and RCA connectors ensure maximum signal transfer. For protection, the amplifier features thermal, DC offset, reverse DC voltage and short circuit protection while the stainless steel hardware used throughout will not corrode in humid environments.

Audison
AV 5.1k
elettromedia-usa.com
trendsinc.com

The AV 5.1k produces 1,650 Wrms for five-channels for front, rear and subwoofer configurations; or, multiamplified front and subwoofer systems. High-quality class AB output stage provides two channels with 250 Wrms. Another pair of class A pure audio channels are rated at 75 Wrms (perfect for active two-way front speaker systems) while the class D mono section provides 1,000 Wrms efficient and powerful subwoofer output. Other features includes automatic remote turnon/off and Amplifier Management Processor technology.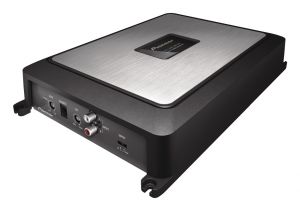 Pioneer
GM-D8500M Class D
pioneerelectronics.com
pioneerelectronics.ca

Pioneer's GM-D8500M class D mono amplifier is designed to produce the same power output as conventional class A/B amplifiers and is 80-90 percent more efficient. Ideal for powering large subwoofers, it features two-ohm stability and can produce up to 600 watts (at two ohms) to deliver high power and high current in a wide variety of configurations, from a single to multiple subwoofer applications.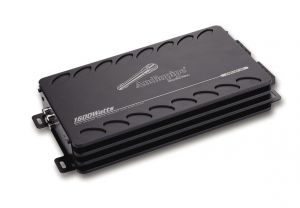 Audiopipe
APSM-55100
audiopipe.com

Audiopipe's APSM-55100 is a brand-new compact five-channel 1,600 Wmax Mosfet car amplifier capable of 75 Wrms x 4 plus 350 Wrms x 1 (at four ohms); or, 120 Wrms x 4 plus 500 Wrms x 1 (two ohms). Subsonic filter is adjustable from 50 to 250 Hz while the high pass filter is adjustable from 50 Hz to 1.2 kHz. Frequency response is 20 Hz to 30 kHz. This small-footprint, high-output five-channel amp can power your whole system!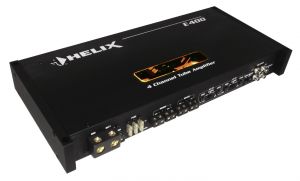 Helix
E400
helixhifi.com

For audiophiles who appreciate a smart design, the E400 tube amplifier delivers an amazing acoustic performance. It's warm and powerful sound comes from dual triode tubes mounted in an elegant 18.5- x 8.7- x 2.3-inch chassis. The E400 features an integrated active crossover, 24-karat gold-plated connection terminals and smart protection circuitry.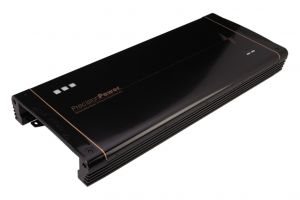 Precision Power
Black Ice
precisionpower.com

Precision Power is proud to of amplifiers, Black ICE. Overcompensated, high-headroom power supplies are capable of producing more than conventional power gain with two-ohm loads. Select models accept balanced signal for pure sound. Additionally, double-sided PCBs with all surface-mount technology enhances the listening experience. Complementing its superior performance, a molded, one-piece gloss black aluminum heatsink with copper accents gives Black Ice amplifiers the appearance their hidden technologies deserve.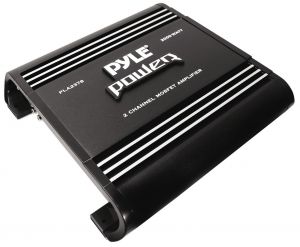 Pyle Audio
PLA2378
pyleaudio.com

When sound isn't enough, you need Pyle Power. The PLA2378 is a 2,000-watt two-channel bridgeable amplifier with silver-plated RCA inputs for eliminating signal loss. A subsonic filter allows low-end interference to be clarified, so your speakers will always be delivered the highest quality audio. The Mosfet pulse width modulation power supply allows for a clean, distortion-free signal to your speakers. This model is equipped with thermal, overload and short circuit protection; and, with twoo-ohm stereo stability and four-ohm bridging capability, it's the perfect match for most mobile audio systems.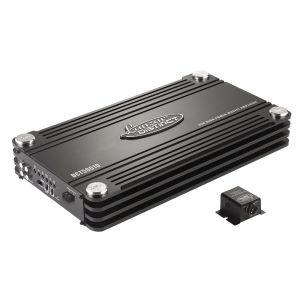 Lanzar
DCT5001D
lanzar.com

Lanzar's new series of "Distinct" amplifiers are powerful, versatile and produce a distinct, unforgettable sound. The DCT5001D is an immaculately designed digital monoblock amplifier that pushes up to 5,000 watts of power at half-an-ohm – a feature Lanzar has previously offered only on its Optidrive competition-grade amplifiers. Other features include variable high and low pass filters, remote bass boost knob, bridgeability, nickel-plated speaker connectors, power and protection LED indicators, soft turn-on/off as well as thermal, overload and speaker short protection to keep your equipment safe and secure.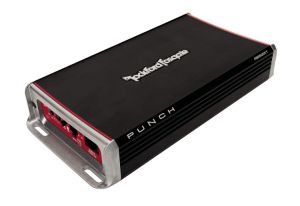 Rockford Fosgate
Punch PBR500X1
rockfordfosgate.com

If your vehicle has limited space, want to add bass to your motorcycle, or you just looking for a simple installation solution, the Punch PBR500X1 is for you. This compact amplifier uses Rockford's patent-pending Boosted Rail Technology to deliver 500 watts of power into a one-ohm load while featuring auto-sensing turn-on, high-level and line-level inputs as well as a selectable crossover.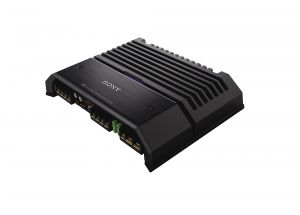 Sony
GS-400 Class D
sony.com/car
sony.ca/caraudio

The Sony® GS-400 class D subwoofer amplifier packs quite a punch and affords incredible installation flexibility thanks to its compact size. The GS series amplifiers off er tremendous value, including convenience features such as modern cosmetics, variable crossovers, multiple channel configurations and single-side electrical connections to suit almost any application.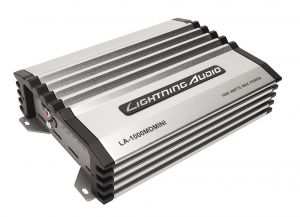 Lightning Audio
LA-1000MDMINI
lightningaudio.com

The LA-1000MDMINI mono four-channel amplifier features a 12 dB/Oct low pass crossover, variable 35 to 250 Hz crossover frequency, variable 15 to 55 Hz subsonic filter, RCA inputs as well as zero, six and 12 dB of bass boost (@ 45 Hz).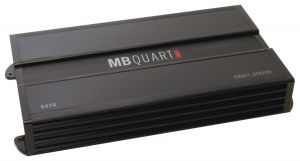 MB Quart
ONYX ONX1.2000D
mbquart.com

High-end and MB Quart have been synonymous for 50 years. High-end system designs need big power without sacrificing sound quality and the ONX1.2000D amplifier is designed with high-efficiency digital class D technology that meets CEA-2006 standards. This translates to 2,000 musical watts of tight, fast bass in any system for any style of music. The amplifier boasts an illuminated red MB Quart logo to appeal to show-offs. MSRP is $559.99.

RE Audio
XTX 1500.1 Mini "D" Class Monoblock
reaudio.com

In keeping with US Amps' (parent company of RE Audio) 25-year tradition of building amplifiers that consistently set a new reference standard in amplifier design, the XTX 1500.1 offers half the size for the equivalent power of past designs as well as greater dampening factor and improved efficiency. Despite its tiny 7.9- x 7.5- x 2- inch footprint, RE Audio Engineers were able to produce an impressive 500 Wrms into one ohm and offer features like variable subsonic filter, bass boost circuitry and low pass crossover. In addition, the XTX 1500.1 is master/slaveable and comes with a remote bass control knob.

PowerBass
XAX Series Mini
powerbassusa.com

All-new for 2012, the second-generation XAX Series mini amplifier has five output channels with three separate inputs, including a discrete subwoofer input. Designed to run an entire system, this amplifier is rated at 160 Wrms x 4 into two ohms full range and 320 W for the subwoofer channel into two ohms, which translates to 1,920 watts of peak music power from one small chassis measuring just 12 x 7 x 2 inches. A wired remote level controller is included for the subwoofer channel.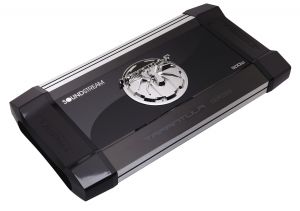 Soundstream
Tarantula Nano Class D
soundstream.com

During a time when small is "in," smaller, lighter, more economical vehicles become more and more desirable. But, that doesn't mean you have to sacrifice big power for your system. The new Tarantula Nano Class D amplifiers by Soundstream pack huge amounts of power into small chassis' thanks to efficient full-range class D topology and SMT technology. Complemented by every possible preamp adjustment, the Nano amplifiers leave nothing to be desired.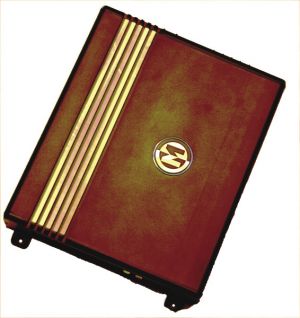 Memphis Car Audio
SRX Street Reference
memphiscaraudio.com

Memphis Car Audio's Street Reference (SRX) amplifiers are available in four models ranging in output from 50 W x 2, 50 W x 4, 250 W x 1 and 500 W x 1. Notable features include an all-new black anodized heatsink with illuminated badge, selectable bass boost on all models, remote gain control on both mono amps as well as a variable subsonic filter on mono amps.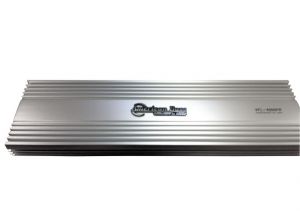 American Bass
VFL-4000 Amplifier
americanbassusa.com

American Bass is proud to introduce the world's biggest two-channel fullrange amplifier. The VFL-4000 produces 3,000 Wrms at one-ohm stereo. Designed for big car audio systems with mid-range and pro-style speakers. Specifications: 500 Wrms at four ohms; 900 Wrms x 2 at two ohms; 1,500 Wrms x 2 at one ohm; 3,000 Wrms x 1 at one ohm; 20 Hz – 20 kHz frequency response; 24 dB/Oct crossover slope; high and low pass crossovers, Burr-Brown op amp and high-grade JRC op amp and more.