Written by Garry Springgay // Photos by Manufacturer
Everyone knows you need a good strong healthy battery to handle all the everyday electrical needs of any ride, but when we add a pounding audio system, how many of us really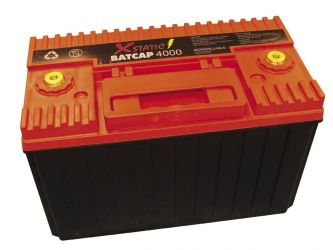 consider what that means to the electrical system? And if we add a fairly high powered audio system, and we're enthusiastic listeners, before you know it we've fully taxed or maybe even exceeded the cars electrical capability. We experience lights that dim when the bass hits, low voltages that limit amplifier power and reduced life from our batteries and alternators.
Sure, you can always add a large storage capacitor to try and bolster the system, but the folks over at Xstatic BatCap believe they have come up with a much better solution and we're going to take a closer look. For some time now, Xstatic BatCap have been producing premium quality batteries that share the low ESR/ESL attributes of a capacitor, but also function as a very high current battery.
In development for over 2 years, the new Xstatic BatCap 4000 battery provides double the amount of energy as their very popular model 2000 BatCap. The sample I received for testing proved to be just as they described. It has incredible energy reserves, and I measured the ESR at just under 1 milliohm! Performance like this will ensure your amplifiers work as intended, and dimming lights will be a thing of the past. The battery is among the highest energy storage devices I have tested, and at just under 80 pounds, you know it's a serious piece the first time you pick it up! Measuring 13 inches long, 6.75 inches wide and 8.7 inches tall, the BatCap 4000 comes with convenient and heavy duty top terminals, and the design is non-spillable which allows mounting in any position. The battery has a suggested retail price of $499.00 (USD).
So the next time you need a battery upgrade for your ride, remember you can get a great battery and the performance of a capacitor all in one high performance product, and you won't have to worry about starting, lights dimming, or running out of current again! For more power solutions or information visit www.batcap.net