Written by PAS Staff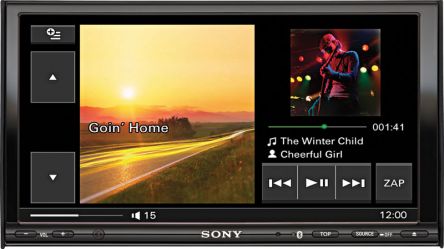 Sony
XAV-W1
Sony's XAV-W1 Xplod® Double Din CD/DVD Receiver is the ultimate source unit for enjoying digital music and movies. Designed to elevate your in-car entertainment experience, the receiver features a 7 inch widescreen, 16:9 format touchscreen display and is satellite radio, HD Radio® and iPod® control ready (optional accessories required). The XAV-W1 is also surround-sound capable (Dolby Digital/Dolby Pro Logic II/dts Digital Surround sound) and features an interactive Karaoke mode to keep your passengers entertained mile after mile.
USA - www.sony.com/xplod
CAN - www.sonystyle.ca/xplod
---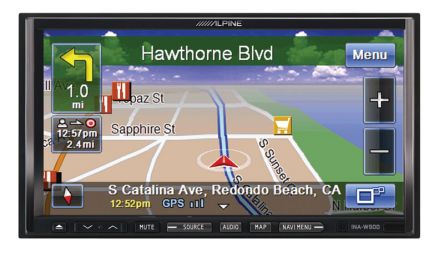 Alpine
INA-W900
The Alpine INA-W900 is an all-in-one integrated AVN system with an easy-to-use interface and fast boot-up time.  It has a large 7-inch WVGA touch screen and dedicated buttons for the most-used features.  The INA-W900 can connect to digital audio sources like iPod or iPhone, satellite radio and HD Radio, and a rear view camera system.  Navigation features include text-to-speech driving instructions, six million unique Points of Interest and OnPoint technology for accurate vehicle positioning. The unique GuideView Window displays the next driving maneuver within the audio screen, picture-in-picture style.
USA - www.alpine-usa.com
CAN - www.alpine-canada.com
---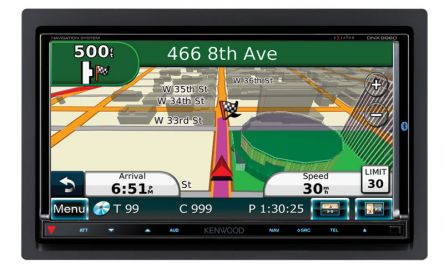 Kenwood
DNX9960
It starts with a 6.95-inch motorized WVGA advanced resolution screen, which in lay-mans terms translates to freaking awesome. Next there's built-in navigation from industry leader Garmin which now includes 3D Building maps which is very cool, plus 'lane assist' with junction view, a convenient feature which notifies you of which lane you need to be in for the upcoming freeway junction. There's built-in NAVTEQ Traffic helping to steer you clear of traffic jams.  Simply put there is not enough space on this page to cover everything this unit offers.
USA - www.kenwoodusa.com
CAN - www.kenwood.ca
---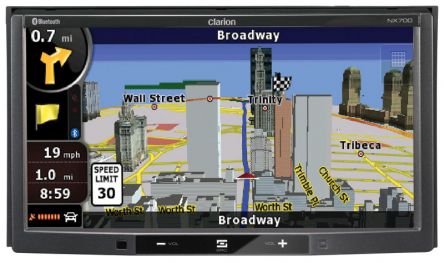 Clarion
NX700
Clarion's premium double DIN DVD multimedia source unit with built-in navigation, the NX700 features a 7-inch motorized touch-screen with only three hard buttons. Its smooth easy-to-use touch-panel allows you to control all multimedia and navigation features effortlessly. The Clarion NX700 guides you to your destination with vivid 3D cityscape graphics, icons and landmarks for a more realistic map view. The built-in bluetooth allows you to easily call a searched POI destination. The NX700 is satellite radio ready, has superb sound quality and includes top-notch iPod and iPhone connectivity.
Read on for More Products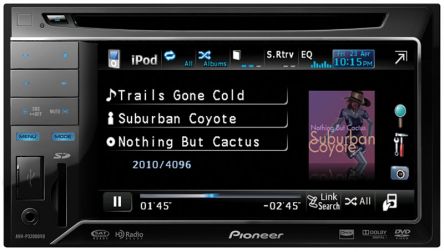 Pioneer
AVIC-X920BT
Pioneer's AVIC-X920BT is the latest all-in-one system that features a large 6.1-inch WVGA touch screen display, an advanced audio/video and navigation user interface with intuitive and innovative touch control architecture, enhanced voice recognition, second generation Eco-routing and Pandora Link internet capability. The system also provides built-in bluetooth for hands-free phone operation, audio streaming, and AVIC FEEDS iPhone App compatibility. USB connectivity enables iPod and additional digital media sources to be connected and directly controlled through its interface. Pandora feature is not available in Canada.
www.pioneerelectronics.com
www.pioneerelectronics.ca
---

Dual
XDVDN9131
Take control over everything with the Dual XDVDN9131 in-dash multimedia/navigation receiver. It features a single DIN chassis, fully motorized 7-inch touch-screen monitor and a detachable fold-down front panel for security. Find your favorite destinations using the integrated navigation with more than 2 million points of interest or play music and video from your iPod device. Built-in bluetooth wireless technology allows for hands-free calling and streaming of your music via A2DP. The integrated SDHC card reader plays your favorite MP3/WMA files and allows for future map updates. An external microphone and connection cable for an iPod device are also included.
---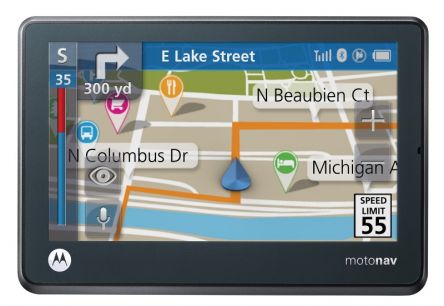 MOTONAV
TN700 and TN500 Series
Constantly be in touch while staying focused on the road with the MOTONAV TN700 and TN500 series. Motorola's personal navigation system ensures you stay on the map while discovering the world around you. Motorola introduces two new personal navigation devices: The MOTONAV TN500 series is an easy-to-use personal navigation device with voice commands and stunning graphics while the MOTONAV TN700 series features a cinematic display that also offers streaming traffic alerts and a 3D landmark viewing map. Both devices have a speakerphone that pair with Bluetooth-enabled phone keeping your whole life in sync while on the road.

www.Motorola.com/MotoNav
---
Soundstream
VIR-7022NR
The Soundstream VIR-7022NR is a single DIN multimedia source unit with detachable 7-inch LCD touch screen! Take a moment to read that again… yep, it's detachable. The monitor attaches to the front of the radio and hangs down, rather than "flip-up" like typical source units with a 7-inch monitor. This low-ridin' LCD won't block any heating and A/C system vents or dash mounted controls. Plus it accepts Soundstream's DTV-1 and NAVIBOX-1 add-on modules for digital TV and GPS navigation too.

USA - www.soundstream.com
CAN - www.automob.ca
Read on for More Products
MD SOUND
MD-3.5T
MD Sound, a 7 Elephants brand electrifies the mobile video market with the release of its New MD-3.5T color LCD multimedia head unit. The MD-DVD3.5T is a full featured single DIN DVD player with tuner and flip-down panel. It is NTSC/PAL compatible with screen angle and position memory. Designed for suitable and enjoyable mobile amusement, it's audio and DVD capacity is complete including DVD/DVD-R/MP3/MP4/VCD/CD/CD-R/CD-RW delivering absolute convenience and functionality. It has AM/FM/MPX stereo with 30 preset stations, USB 2.0 and SD card input. For the truly advanced consumers, it offers DVD/VCD/CD changer control interface, subwoofer output and a card size full function remote control. Sound amplification is tuned up to 200 Watts (50 w x 4) plus 2V preamp outputs (2 pairs of RCA) and a rear monitor video output provides handy connectivity and system backing.
---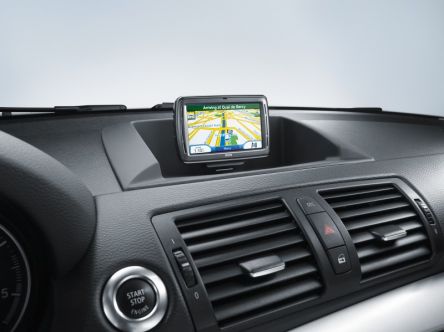 BMW
Portable Navigation – nüvi 765
Achieving the perfect combination of cutting-edge functionality and stylish design has always been a BMW strength. Traveling in a BMW has always been an experience to savor. Now, thanks to the portable BMW navigation system for the BMW 1 Series, BMW 3 Series, BMW X3 and BMW Z4, you can enjoy every journey just as much – even when you're not in a BMW. This unit features a 4.3-inch touch screen, bluetooth hands-free integration, 3D road mapping, lane guidance with junction view and offers full vehicle integration with BMW specific mounting brackets to eliminate the need for a suction cup.
For more visit your local BMW retailer.
---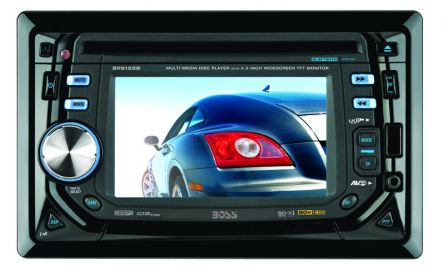 BOSS Audio Systems
BV9155B
BOSS Audio Systems new BV9155B is a unique true double DIN aftermarket replacement in-dash multimedia model featuring a 4.5-inch widescreen touchscreen TFT monitor. This is just one of 39 multimedia models available from Boss Audio. The BV9155B offers built-in bluetooth for hands free cell phone operation. There is a front panel USB and 3.5mm Aux input. There is a SD memory card port behind the detachable front panel. This unit plays DVD, CD, WMA, MP4, MP3, VCD, CDR, CDRW and SDVD. There are 30 AM/FM presets with switchable USA/European radio frequencies. Subwoofer output, dual (front & rear) RCA outputs and rear camera input are part of this great unit that has 4 x 80 Watts of power and a wireless remote.

www.bossaudio.com
---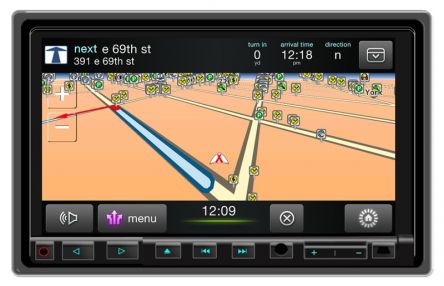 Fantom
Mobile Navigation Units
In an era when technology is moving so fast that your car can't keep up, Fantom is here to do the job for you. Run by a team dedicated to innovation with over 15 years of experience in electronics and custom car design, Fantom can equip your car with a Bluetooth and Wi-Fi ready, 7-inch In-Dash Unit complete with a Voice-Controlled GPS Navigation System, IPOD support, Back-Up Camera view, Dual Zone Media Player, 3G Web Browsing, and the list goes on. Fantom will be the premier custom shop for advanced in-car electronics, infotainment, and safety.

www.myfantom.com
Read on for More Products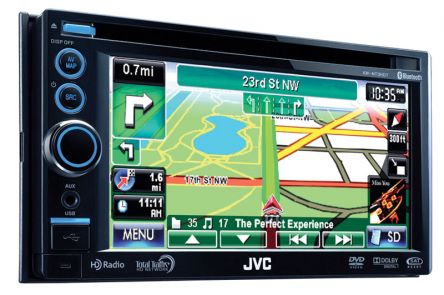 JVC
KW-NT3HDT
The JVC KW-NT3HDT is an all-in-one navigation system with a built-in HD radio and free lifetime subscription for total traffic+ HD network – allowing on-screen news, weather, traffic and sports score information. The system is equipped with millions of pre-installed points-of-interests, and allows up to 50 previous and 100 favorite destinations to be memorized. Additional features include an SD card drive to upload more POI from Google maps, bluetooth wireless technology, anti-theft fully detachable face panel, USB 2.0 for ipod/iPhone connection, and variable-color illumination. External Mode for iPod/iPhone lets you listen to the audio from your favorite applications such as internet radio or YouTube. The multi-faceted system provides smart technology with iTunes tagging which allows one to tag songs heard on the radio for easy purchase through iTunes Store, as well as adaptive volume that adjust to the vehicle's speed. Traffic feature and HD radio not available in Canada.

US: www.mobile.jvc.com.
CAN: www.jvc.ca
---
Planet Audio
PI9780B
Planet Audio has earned its reputation by supplying the finest innovatively-engineered audio products to the mobile marketplace. They now proudly introduce Planet Video as your global one-stop supplier of aftermarket mobile video components and accessories. The bluetooth enabled PI9780B is a prime example. This 7-inch flip out, widescreen, touchscreen, single DIN DVD/MP3/CD AM/FM receiver utilizes nearly all known multimedia formats through its front panel USB and aux input. This, and full iPod control (cable included), presents users a way to bring their home studio into their chariot.

www.planetaudiousa.com


---
Valor Multimedia
DDN-888W

Valor Multimedia DDN-888W navigation is the next step up in their updated 2010 product line. The DDN-888W is a full featured A/V receiver with built-in AM/FM and plays DVD, CD, VCD, and MP3. The navigation uses Navteq mapping to covering all of North America on its 4GB SD Card. With its beautiful 6.5-inch digital panel screen images are clearer, sharper and also detachable to help prevent theft. The Valor DDN-888W also has a unique feature to adjust volume on our touch screen rotational digital knob; entertainment couldn't be any easier via touch screen. Other features include bluetooth with AD2P technology allowing users to stream music from smart phone evices. The DDN-888W is an all-in-one multi-format entertainment system one shouldn't be with out.