Written by Garry Springgay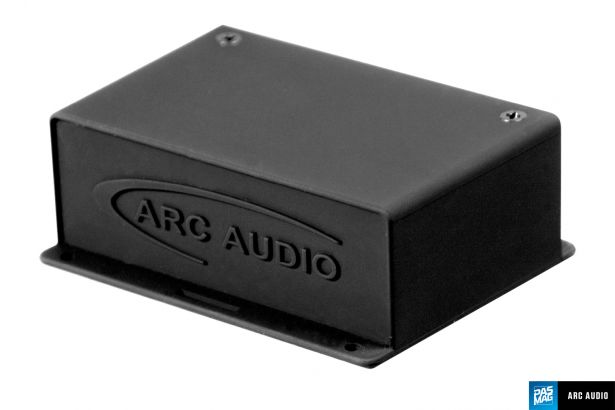 As the integration of factory source units continues to become more comprehensive, many audio enthusiasts are faced with the necessity of retaining the OEM radio when planning a system upgrade. In many cases, this means having to correct the ridiculous equalization and other tuning settings in these source units; and this problem isn't just exclusive to new cars and trucks, it's also prevalent in new Harley-Davidson motorcycles as well. If you have been looking for an affordable solution for interfacing an aftermarket audio system to your car's (or bike's) OEM system, your search is over. The whiz kids over at Arc Audio have developed a product that is flexible enough to be used as the connection interface and audio correcting interface for almost any vehicle. The new piece of kit is called the PSM, and it's an ultra-compact, but incredibly powerful interface and tuning tool. Thanks to the clever and thoughtful design, the PSM can be used as a Line Output Converter, a Signal Summing Module, or a standalone Digital Signal Processor.
Features
The PSM is designed to be a plug and play solution for integration into today's 2014+ HD Street Glide and Road Glide motorcycles right out of the box. The sub-compact architecture of the design allows it to be stowed within the bikes fairing, or mounted virtually anywhere you'd like in a car. In addition, the PSM comes pre-programmed with an established counter-tune that works to compensate for many of the ridiculous OEM tuning settings found in the factory Harley radio. This correction, of course, is easily reset to default for non-motorcycle DSP applications. However, thanks to the flexible design and easy to use software, the PSM can be readily configured as a car audio product as well.
The main chassis consists of a small, (1.375 x 3.75 x 3-inch) injection molded five-sided case with an insertable case termination panel fitted with rubber seals on the openings making it highly water resistant to the open environment. The PSM kit comes complete with all the necessary harnesses to allow it to be installed as a simple plug and play solution for H-D owners, including a loomed and fused power harness, secondary plug and play input harness designed to plug directly into the MPAK series HD Harness, plus the necessary double male RCA connectors to plug directly into the primary inputs of the popular Arc Audio Moto 600.4 amplifier.
The PSM uses an Analog Devices 1701 DSP chip, which offers an affordable chipset solution without an exorbitant cost, thus keeping the unit cost down and performance competitive. The Arc Audio PSM provides users enough tuning flexibility and control to compensate for virtually any corrections needed in most OEM integration applications. The processor uses a common feature set that most users are familiar with, as well as enough power to customize the listening experience to meet the specific needs and tastes of the individual listener's listening style. This simplified feature set keeps the PSM user friendly and easy to use without the typical confusion found from lot of users of extensive featured advanced DSPs featuring 200+ bands of equalization and complicated crossovers etc. The result is a product with incredible flexibility and tuning capability but remains simple and easy to use.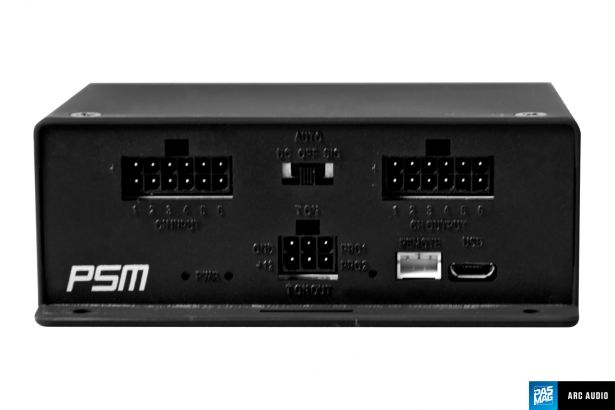 There are six channels of input and six channels of output. Channel summing and all adjustments are set up via the simple to use software. Each of the six channels has its own seven-band parametric EQ with adjustable Q and frequency, in steps of one-tenth of a dB to +/- 24 dB. Each channel also has individual signal delay settings, with up to five milliseconds of delay available in 0.012-millisecond steps. If you are the type who likes to make changes on the go, there are four presets available via hardware switching sending 12-volts-plus to specific preset wires. Vehicles without a typical turn-on lead can use either the DC sensing or audio signal turn on circuits that are available with the flick of a switch.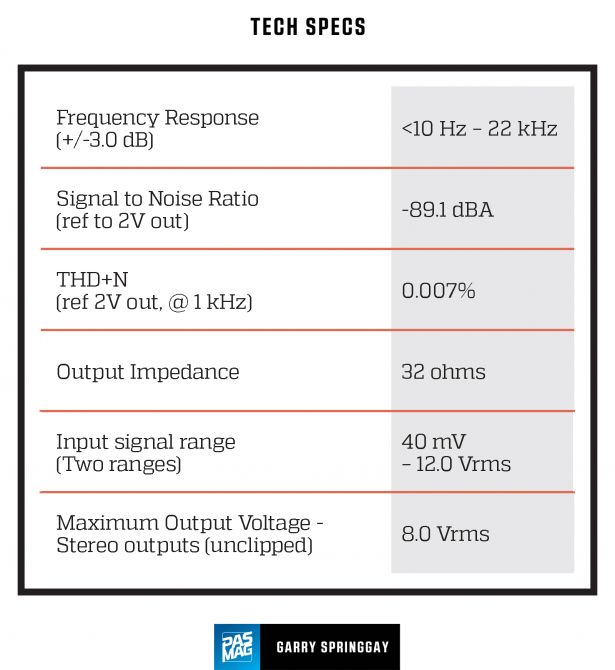 On the Bench
On the test bench, the PSM shows the pedigree typical of Arc Audio components. Audio performance is excellent, with very low THD and an extremely flat frequency response. Signal-to-noise performance and stereo separation are also very good, and the unit simply works exactly as intended. The output impedance, a critical specification in this sort of device, is excellent as well at a respectable 32 ohms. Crossover settings can be configured for Linkwitz-Riley, Bessel, or Butterworth alignments. Slope selection goes from six to 48 dB in high-pass mode, and six to 24 dB in low-pass. Frequencies are selectable from 20 Hz to 20 kHz. Testing shows the incredible power the PSM has as an audio tuning tool, and as a multiple function integration device. Sound quality is impeccable, and there are no unwanted pops, clicks, or snaps.
Conclusion
Anyone who is looking to add quality aftermarket amplifiers and speakers to an OEM source unit should take a close look at the Arc Audio PSM. These folks have developed a well thought out and thorough solution for almost any system, whether it's your Harley or your Tesla. The Arc Audio PSM has a suggested retail price of $409 (USD) and is available exclusively through Arc Audio "brick and mortar" retailers only.