So you've finally got your car dialed in exactly how you want it. The motor's built, brakes are upgraded, suspension's tight, stereo's bumpin'… It took some time, lots of cash, and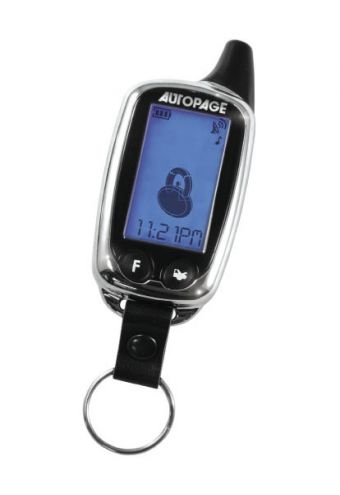 good old blood, sweat, and tears, but it's done! Now all you have to do is keep it safely in your hands.
Nice rides with loud stereos are prime targets for low-life thieves that make a living by stealing. To protect your ride from theft, you need a security system that's more than just a loud siren. You need something that'll alert you to what's happening, and take steps to keep what is rightfully yours where it belongs.
That's where the new Autopage C3-RS730 comes in. First, the C3-RS730 is more than a simple alarm. It's a fully featured 4 channel system with 5 on-board relays that has been reduced in overall size by almost 50%, allowing it to fit in the tighter spaces under the dashboards of any modern car or sport compact. The reduction in the size of the main unit was achieved by utilizing newly developed 30/40 ampere micro relays. Additionally the remote start functionality has been upgraded with new programmable outputs and new starter and timing sequencing for improved compatibility with new GM vehicles.
Featuring a new chrome metal finish two-way paging transmitter that broadcasts on AM radio frequencies, the newest system from Autopage can keep you informed on the status of your ride from up to a half mile away! And to make it easier to use, the LCD screen on the transmitter has been increased 50% in size. Want more? Well, if that isn't good enough, the C3-RS730 is fully compatible with Autopage's new C3 technology. The latest and most advanced vehicle security and remote start solution, C3 is a cell phone-based vehicle communication system. The optional C3 telematics module integrates cellular and GPS tracking to provide the user with a cell phone remote commander for security, remote start and GPS tracking from anywhere in the world regardless of your cell carrier. The C3-RS730 comes with a dual stage shock and impact sensor, dedicated siren and horn outputs, parking light flash, dome light supervision, active and passive anti-carjacking, and an additional auxiliary output.
So not only can you keep tabs on your ride from anywhere at anytime, but the Autopage piece isn't all work and no play. There are a bunch of cool and convenient features as well, such as a 5 button transmitter with a larger LCD screen and choice of screen colors, remote starting capability, keyless entry, 2 car operation from one remote, remote trunk opening and more. You can even monitor the interior temperature of the car via the two-way transmitters' LCD screen.
If you love your ride, and want to do everything possible to keep it yours, check out the new C3 system as well as the C3-RS730 at your local Autopage dealer. Remember, you don't have to make your car impossible to steal, you only have to make it harder to take than someone else's! For more features and information visit www.autopageusa.com