Page 2 of 2
If you are doing your upgrades in stages like most people with a specific budget in mind, the above choices are still going to be great as your improvements continue. The next upgrade is going to depend on what is most important to you. Some people will want the system louder and more adjustable, so they'll turn toward aftermarket amplifiers with built in crossovers and signal control. Others will be more interested in adding navigation, Bluetooth connectivity and iPod integration. Since there are many amplifier choices out there and the actual sonic differences between them are relatively small, if you choose that route simply consult with a dealer and pick out the amp brand and model that suits you and your budget. But if you want to add navigation and other features, it's time to change out the OEM head unit. The 2005-2009 Mustang uses a standard 2DIN (sometimes called double DIN) headunit opening. The OEM radio is fairly easy to remove, but as always if you have no experience and few tools, this is a job best left to a professional.
Kenwood DNX5140 DVD / Navigation Receiver


There are many choices when it comes to in-dash navigation headunits, but one of my favorites for the money is Kenwood's DNX5140 DVD/navigation receiver. This full featured unit is modestly priced at around $950, and not only delivers movies and music, but also ads the convenience of turn-by-turn directions from its built-in Garmin navigation system. A high quality 6.1-inch TFT non-glare screen brings movies to life and the intuitive touchscreen controls let you easily step through menus and navigation functions when you're on the move. Built in DSP power provides preset and user tunable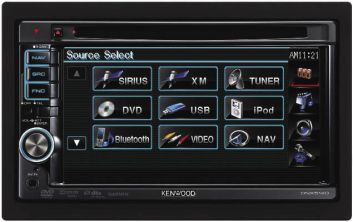 equalization as well as adjustable crossover settings and dynamic range adjustments. The DVD drive plays back virtually any kind of music source, and a DVD disc full of MP3's will provide tons of tunes for the longest of drives. It's also equipped with a USB port so you can easily add MP3 tracks that way or connect and control your iPod directly with the optional cable. If you are a frequent cell phone user, the Kenwood DNX5140 also has Bluetooth connectivity (with the optional module). Other available sources include satellite radio and HD radio as well. When you're ready to add more power to the system, the DNX5140 has two sets of preamp outputs and the ability to select a non fading mode for the rears so you'll have constant bass regardless of the fader position.
Whether you want to simply and economically improve the sound of your Mustang factory system, or build an incredible sounding high-end system with every feature known to man, there are products out there to help you achieve your goal. And while making really big improvements needn't cost an arm and a leg, even a serious high end system is going to be a much better value than paying the high prices for some really mediocre factory stuff.
The Verdict
Okay, we've got the car all kitted out and sounding great. Now let's talk about keeping your investment secure. A good security system is always an important consideration, particularly when you're driving a high profile "look at me" car like a tricked out Mustang.
As with audio gear, there are dozens of security systems available. When you make your choices here, I suggest you look for a system with decent range and the ability to monitor not only doors, but the hood and trunk, as well as a glass/shock sensor. Many of these systems also include remote starting for your added convenience. One of my favorite systems including all of the above at a very reasonable price is the Ungo SR9000. With full security features, a long range remote control with LCD screen, and the luxury of remote starting, it's really hard to beat at under $500 bucks.