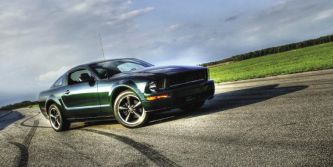 When it was introduced in 1964, the Ford Mustang was an instant hit with young and old people alike who wanted reliable and sporty transportation at a modest price. And of course the Mustang is generally credited with starting the whole pony car trend, which quickly led to the muscle cars of the 60's and early 70's.
Fast forward 45 years, and the Ford Mustang is going strong again, appealing to the same types of buyers that made it an icon in the 60's. Available in 4 basic models in either coupe or convertible form, and with literally dozens of available packages, special editions and options, the new Mustang can be delivered in many styles and equipment levels. Whether it's a basic V6 model, the GT with 300 horses under the hood, the iconic Bullitt edition or even the serious 500 horsepower GT500 Shelby model, there are always ways to personalize it further and make it even more enjoyable. Because of the overwhelming popularity of this car in all its variants and the huge selection of aftermarket equipment available, it's a prime candidate for audio and security upgrades.
Starting Off
The Mustang comes from the factory with one of several audio system options. The basic models come with an AM/FM radio and a single CD player. From there you can upgrade to a 6 disc changer, and 8 speakers, which Ford calls the Shaker 500 package. The rather dreadful sounding system is by far the one most commonly found, but there are other options. Some Mustangs are ordered with the even worse Shaker 1000 system which adds two "subwoofers" in the trunk and is rated at 1,000 watts. And as bad as it sounds, this system isn't cheap either, as a whopping $1,088 upgrade.
For $1,676 you can add a GPS Navigation system with a touch screen and DVD maps, but because of the way things are offered by the factory, you cannot have the Navigation system with the Shaker 1000 system. As you can see, the factory audio systems for the Mustang are both expensive and limiting in terms of available features and functions, not to mention that none of them sound good. This is where the savvy Mustang owner turns to the aftermarket. Of course there are literally dozens of brands and hundreds of models of all sorts of gear available for the Mustang. Everyone likes something a little different, so by all means before spending any money, make sure you have auditioned the gear you are looking at buying. I'm going to make some recommendations here based on my testing and experience. When it comes to audio, always trust your ears, and listen to things before laying out the cash. If you do choose products similar to the ones I recommend, you should be in real good shape as your desire to make the system continues and eventually replace the entire factory audio system.
JBL GTO8607C component speaker system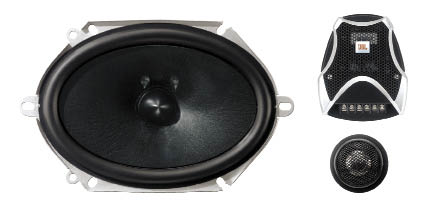 As with almost every OEM system, the best place to begin with your upgrades are the replacement of the factory speakers. This upgrade will net you the most improvement for the least amount of money. The Mustang uses 6x8-inch speakers and separate tweeters in the front doors and 6x8-inch in the rear deck. This makes upgrades easy, as most aftermarket companies offer coaxial or component systems that will readily fit in these openings.
If you are on a tight budget, check out the JBL Grand Touring component speaker system. Its high-efficiency design uses a special lower impedance design to perfectly complement the OEM amplifiers output, and will deliver great sound with much improved clarity and output. The JBL GTO8607C component speaker system features a pair of 5x7-inch / 6x8-inch polypropylene cone woofers, suspended with heavy duty rubber surround. The woofer cone uses a special design that offers a larger surface area than other similarly sized speakers, for increased bass output and efficiency.
JBL's innovative My-Ti tweeters use a special diaphragm material blended from titanium and Mylar that delivers smooth highs without being strident. The ingenious I-mount system allows you to custom install the tweeters in almost any location, and JBL's Starfish mounting bracket lets you install the tweeters in most factory tweeter locations. Best of all, 2 pair of these high quality component systems will only set you back about 400 bucks and will completely transform the Mustangs sonic quality. For those who want or need more, the JBL GTO8607C are still a great choice, and the next place to spend some dough is on a real subwoofer system.

MTX Audio 12-inch Thunderform


Traditional car audio enthusiasts immediately will think "I need a pair of 12's and a big amp" when it comes to a subwoofer system. But I have had very good experience with more modest systems that don't take up the whole trunk and still provide very good low frequency performance. If your goal is to win SPL contests, or bounce coins off the roof, by all means go that route. But for the daily driver that has to carry cargo once in a while, I like the vehicle specific enclosures that are available from a number of manufacturers.
The gang over at MTX Audio has developed an excellent system for the 2005-2009 'Stang that includes a 12-inch Thunder 4500 series woofer and a high efficiency 200 watt Class D amplifier. The woofer system fits both coupes and convertibles, and provides really good bottom end with a minimum of lost space. Utilizing a high-density polyethylene resin material that's molded to custom fit the space available, you get a strong enclosure that has the right amount of air for the woofer, but only takes up a fraction of the space a regular MDF enclosure would.
The kit includes everything you need to connect it to the factory system, and in case you continue upgrades, it's also fully compatible with aftermarket head units as well. The system features innovative touches like Smart Engage auto turn on, and even includes a remote mounted External Bass Control so you have full control over the bass level from the drivers seat. The Thunder 4500 woofer used is a special 12-inch low impedance version of the Thunder 4500. This proprietary 0.35 ohm woofer has a long excursion voice coil, and is specifically designed for the amplified ThunderForms. A carbon-filled polypropylene cone is connected to the heavy duty basket by a polyether foam surround, and provides increased cone rigidity for reduced distortion and improved reliability. Additionally, and important in a harsh vehicle environment, the cone is also very resistant to environmental extremes. MTX woofers use a technology called Asymmetrical Linear Drive System (ALDS). This system consists of a flat, progressive spider that improves suspension linearity and an extended vented pole piece for improved voice coil control at all excursions. The result is high output and lower distortion.
The MTX Thunderform kit including the amplifier and wiring harness sells for about $550 in the U.S. (a little more in Canada) and will put some serious bottom end in any Mustang. Of course there is really no limit to the upgrades and changes you can make to a car like this, but by using gear like the above examples, for under a grand, you can have an excellent sounding, high quality, very reliable aftermarket system. Considering the rather horrendous sounding Shaker 1000 system costs close to $1,100 bucks, once again the aftermarket offers better performance at lower prices.


Still want more? Good, me too!
If you are doing your upgrades in stages like most people with a specific budget in mind, the above choices are still going to be great as your improvements continue. The next upgrade is going to depend on what is most important to you. Some people will want the system louder and more adjustable, so they'll turn toward aftermarket amplifiers with built in crossovers and signal control. Others will be more interested in adding navigation, Bluetooth connectivity and iPod integration. Since there are many amplifier choices out there and the actual sonic differences between them are relatively small, if you choose that route simply consult with a dealer and pick out the amp brand and model that suits you and your budget. But if you want to add navigation and other features, it's time to change out the OEM head unit. The 2005-2009 Mustang uses a standard 2DIN (sometimes called double DIN) headunit opening. The OEM radio is fairly easy to remove, but as always if you have no experience and few tools, this is a job best left to a professional.
Kenwood DNX5140 DVD / Navigation Receiver


There are many choices when it comes to in-dash navigation headunits, but one of my favorites for the money is Kenwood's DNX5140 DVD/navigation receiver. This full featured unit is modestly priced at around $950, and not only delivers movies and music, but also ads the convenience of turn-by-turn directions from its built-in Garmin navigation system. A high quality 6.1-inch TFT non-glare screen brings movies to life and the intuitive touchscreen controls let you easily step through menus and navigation functions when you're on the move. Built in DSP power provides preset and user tunable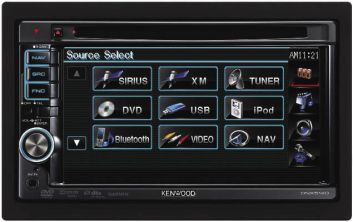 equalization as well as adjustable crossover settings and dynamic range adjustments. The DVD drive plays back virtually any kind of music source, and a DVD disc full of MP3's will provide tons of tunes for the longest of drives. It's also equipped with a USB port so you can easily add MP3 tracks that way or connect and control your iPod directly with the optional cable. If you are a frequent cell phone user, the Kenwood DNX5140 also has Bluetooth connectivity (with the optional module). Other available sources include satellite radio and HD radio as well. When you're ready to add more power to the system, the DNX5140 has two sets of preamp outputs and the ability to select a non fading mode for the rears so you'll have constant bass regardless of the fader position.
Whether you want to simply and economically improve the sound of your Mustang factory system, or build an incredible sounding high-end system with every feature known to man, there are products out there to help you achieve your goal. And while making really big improvements needn't cost an arm and a leg, even a serious high end system is going to be a much better value than paying the high prices for some really mediocre factory stuff.
The Verdict
Okay, we've got the car all kitted out and sounding great. Now let's talk about keeping your investment secure. A good security system is always an important consideration, particularly when you're driving a high profile "look at me" car like a tricked out Mustang.
As with audio gear, there are dozens of security systems available. When you make your choices here, I suggest you look for a system with decent range and the ability to monitor not only doors, but the hood and trunk, as well as a glass/shock sensor. Many of these systems also include remote starting for your added convenience. One of my favorite systems including all of the above at a very reasonable price is the Ungo SR9000. With full security features, a long range remote control with LCD screen, and the luxury of remote starting, it's really hard to beat at under $500 bucks.